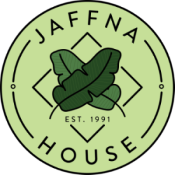 About Us
The oldest Sri Lankan Restaurant in London
Serving authentic Sri Lankan cuisine for over thirty years.
In 1991, a café in Tooting opened its doors for the first time: Jaffna House. Named after the fascinating and vibrant town in the Jaffna Province and created to cater for the Sri Lankan community, it served as a home away from home. Owners and close friends, Siva and Rasan, were ready to greet people at the door and welcome them inside, no matter the time of day, to serve a quality home-cooked meal. The café offered a sense of community and togetherness in a new country: like stepping into a living room, Sri Lankan imagery adorned the walls and the smell of Kothu cooking in the kitchen reminded patrons of its mouth-watering tastes and textures while they listened to the buzz of chatter from familiar faces.
Friends through the generations
Jaffna House soon became a successful and iconic dining experience, one of London's best Sri Lankan restaurants and a staple place to visit for many families. Serving delicious food while retaining affordable prices, it was considered by one critic as serving tastier cuisine than a Michelin restaurant. While serving Sri Lankan food, Jaffna House opened its menu to Indian cuisine, catering to new patrons while offering a consistent and authentic experience – all held together by a long-lasting friendship, friendly staff and tasty treats.
Welcome to Jaffna House
A place to build new traditions.
Now, tucked away in Tooting – home to some of the best South Asian restaurants in London – Jaffna House continues to thrive. Come through the doors and into an intimate and warm atmosphere and pick up a menu filled with authentic Sri Lankan dishes, with vegan and vegetarian options available. On a Friday, you'll recognise the smell of the delightful Thali, a set meal of twelve items; or take a seat and enjoy crisp-crumbed mutton rolls, the recipe conceived by Siva's neighbour in Sri Lanka many years ago. In the kitchen, you'll find the same chefs who have worked in the restaurant for the last twenty years, managed by owners Thayan, Siva's nephew, and his Uncle Kumar. Enjoy a modern dining experience filled with tradition and excellence that has been passed down through the family.